First, we would like to share the background of this technical blog. Till the end of 20th century, generally people were reluctant to share their technical knowledge particular on hydrates and alumina. In the back of their mind, it was a general feeling that only a few have particular data / information. But the advancement in communication technology revolutionized the knowledge sharing approach. In order to get advantages of technology and knowledge sharing approach among bauxite, alumina and aluminium professionals, we started this specialized technical blog couple of years ago with aggressive impulse and approach for achieving the difficult goal set by involved team of professionals. Fortunately, we could maintain the accelerated pace so far with our keen interests, enthusiasm and pleasure in publishing wide range of
273 technical articles
pertaining to bauxite, alumina and aluminium. Now, when we look back towards the trajectory of our progress path traveled so far , we find that we have surpassed all our targets and goals well ahead of our planned schedule without compromising on quality. This reflects the grand success of one and all associated with this technical blog. Till date, we have
more than 60,000 members and 75 Key Members
who are closely connected who made their contribution by way of sharing their knowledge, data and information of public domain nature through this unique platform / web site. Today, we are ourselves astonished on our achievements of set goals.

On the eve of this grand success day

, w

e would like to express

our sincere thanks to renowned Alumina Expert, Mr. George Banvolgyi of Hungary, for his blessings, guidance, inspiration and support during our journey of publishing

variety of technical papers on this technical blog.

Everybody deserves applaud and congratulations on this eve for bringing this platform to a new higher level of popularity. It gives me immense pleasure to be associated with this site as the founder member among the friends of bauxite, alumina and aluminium fraternity.
Our each tiny achievement is the outcome of our efforts and as we consider it as the golden gift of God and hence we must celebrate the same with full enthusiasm and happiness. On similar lines, on achievement of every thousand of added viewers of our technical blog, we make our efforts to publish at least one special technical article on every special occasions.
Today, we have achieved the total viewers of 60,000 with 76 Key Members across the globe closely associated and contributed in the grand success of this specialized technical blog. This day will definitely remain memorable for all of us and particularly for each member of bauxite-alumina-aluminium fraternity. All viewers and key members of this technical blog deserves congratulations on the eve of this new height of success as every body has contributed directly or indirectly in achieving this sky high target. On this great occasion, we are publishing this unique and special technical article for value addition to product hydrate by making it dazzling white and bright adopting corrective measures in process steps as described here under.
There are several grades of Hydrated alumina (Hydrates) manufactured and marketed across the globe. These hydrates are generally known as Specialty grade hydrate or Non-metallurgical grade hydrate. These are marketed at 2 to 5 times the price of Standard chemical grade hydrate. It has been seen practically that over and above desired chemical composition, brightness or whiteness of hydrates has premium market. Thus it becomes important to address the issue of coloration of hydrate and remedial measures for improving the whiteness so as to add more value to it.
In present post, we will briefly cover the most probable reasons for coloration of product hydrate and appropriate technical solutions as remedial measures to improve whiteness and brightness as well.
There are two main reasons for coloration in product hydrate and appropriate solutions opined by many process experts as described here in subsequent paragraphs-
High soda content in product hydrate

H

igh suspended solids in Thickener overflow pregnant liquor.
Step-I:

With our experience in different Alumina refineries in the World, we have experienced the high soda content in product hydrate as one of the basic reasons. The identification of this issue is confirmed through simple analytical technique by analyzing the
Na2O content in product hydrate ready for dispatch to respective customers. If total Na2O content in Hydrate is found more than 0.30% then it confirms that Hydrate generated in precipitators / decomposers / crystallizers has not been washed properly on product filter wherein the maximum component of leachable soda is removed. After observing this high soda content, vigorous washing of hydrate using steam / hot water at temperature around 95-98oC helps in achieving total Na2O content below 0.30%. This step easily improves the product whiteness. For further improvement on washing efficiency, steam-hood at the discharge side of product filter can also be considered.
Step-II:

High Fe2O3 content in product hydrate above 0.010% is the key indication of high suspended solids in filtered aluminate liquor feeding to Decomposers (Crystallizers / Precipitators). The suspended solids must be controlled below 15 mgpl (i.e. 15 milligrams per litre of pregnant liquor) in feed to Decomposers. Higher solids in pregnant liquor happens because of inadequate settling of suspended red mud particles in Liquor thickener for the major reasons listed below-
(a) High generation of fines during grinding of Bauxite: Control fineness of Bauxite at optimum level to ensure higher settling rate of red mud particles in thickener. Generally, minus 60 mesh fraction in ground bauxite slurry is maintained more than 85%. Check and control it accordingly.
(b) Higher viscosity of thickener overflow liquor because of its lower temperature: Temperature of Thickener overflowliquor must be controlled at around 100-102 degree C if the concentration of liquor in thickener overflow is at around 140-145 gpl Na2O or above. High concentration profile is the need of modern Alumina refinery in order to have improved productivity so as to minimise thermal and electrical energy consumption.
(c) Selection of right settling agent: Settling agent used for faster settling of residue particles play vital role in achieving desired quality of product. There are different types of natural and synthetic high density polymers are available for different application. It has been observed that mixed natural starch with particular type of synthetic floccullent are cost effective for Alumina refinery.
(d) Selection of proper filter cloth for polishing filtration equipment: Selection of proper filter cloth is equally essential for controlling suspended solids in filtered aluminate liquor fed to crystallizers. Polypropylene filter cloth of more than 30 and 32 EPI and PPI have been found to be the most suitable cloth for security filtration.


(e) Controlling ingress of
P
2
O
5
content in Bauxite:
At times, high P
2
O
5
content in Bauxite affects the settling rate of residue (Red mud) in thickener. To eliminate this issue, start adding small quantity of Burnt lime (CaO) in Bauxite being fed to Grinding mill. This results in reducing the Phosphorus content in liquor forming Calcium Phosphate.
(f) Control Filter feed pressure below 2.0 kg/cm2.g: Lower the fitration pressure better is the filtrate quality. Pressure around 2.9 kg/cm2.g has been found to be optimum.
(g) Control solids in Thickener overflow Liquor well within 100 mgpl: Suspended solids in feed liquor to filter should be controlled well within 100 mgpl so as to avoid extra load of residue on polishing filtration unit thereby improving the filtrate quality to crystallizers,
(h) Optimize dosing of TCA: TCA (Tri calcium aluminate) addition to filter feed liquor results in improved fitrate quality. It has been established in various plants across the globe that mass flow of TCA equal to 10 times of suspended solids in Thickener is optimum.
Step-III:

Check & Replace Security Filters in Service:

Even after checking and monitoring all the above mentioned parameters stated under Step-I & II, if there is no appreciable improvement in filtrate clarity, then it concludes that some thing wrong with filtration equipment itself. In such situation, replacement of Polishing filters with suitably sized and designed security filters is the ultimate solution to this problem. Since this step requires additional capital expenditure fot the plant, thus decision needs to be taken only after thorough investigations of results obtained during Step-I and Step-II under the guidance of process expert who has operated the similar systems in any Alumina refinery across the globe.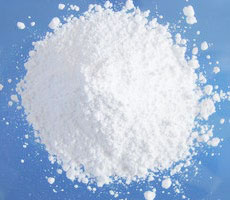 Trust, all major possible reasons for poor filtrate clarity have been covered here and desired solutions have been presented with utmost care. In case, we have missed out any major reason, please come forward and put your views under Comments just below the article. Our team of experts will welcome your valuable comments / remarks in the benefit of readers across the globe.
Everybody will like to have hydrated alumina with whiteness and brightness as shown here in
the pictorial view. The major chemical constituents and coarseness / fineness are given below-
Fe

2

O

3

: 0.007%, SiO

2

: 0.007%, Na

2

O:0.23% and Minus 45 microns: ~ 90%. This hydrate is the basic input material for producing American Diamond for jewelry, Thread guides, Sealing rings for pumps and many other valuable products. The author was deeply involved in development of this product, project engineering, trial run and manufacture of this product in the plant. Thus, if you can feel this product, you can definitely produce it in your own plant.
Trust, our learned friends of alumina fraternity will put their valuable remarks and opinions under comments paragraph which will help in enriching our knowledge base towards our approach and methodology in achieving better results in future. Your views / remarks / comments matter for us for improvements in forthcoming articles. Please never be hesitant in expressing your opinions. We seek your continued support and welcome your suggestions.
Kunwar Rajendra